3- Day Rocket Yoga Immersion with Andre Harris
August 26 @ 6:00 pm

-

August 28 @ 8:00 pm

UTC-7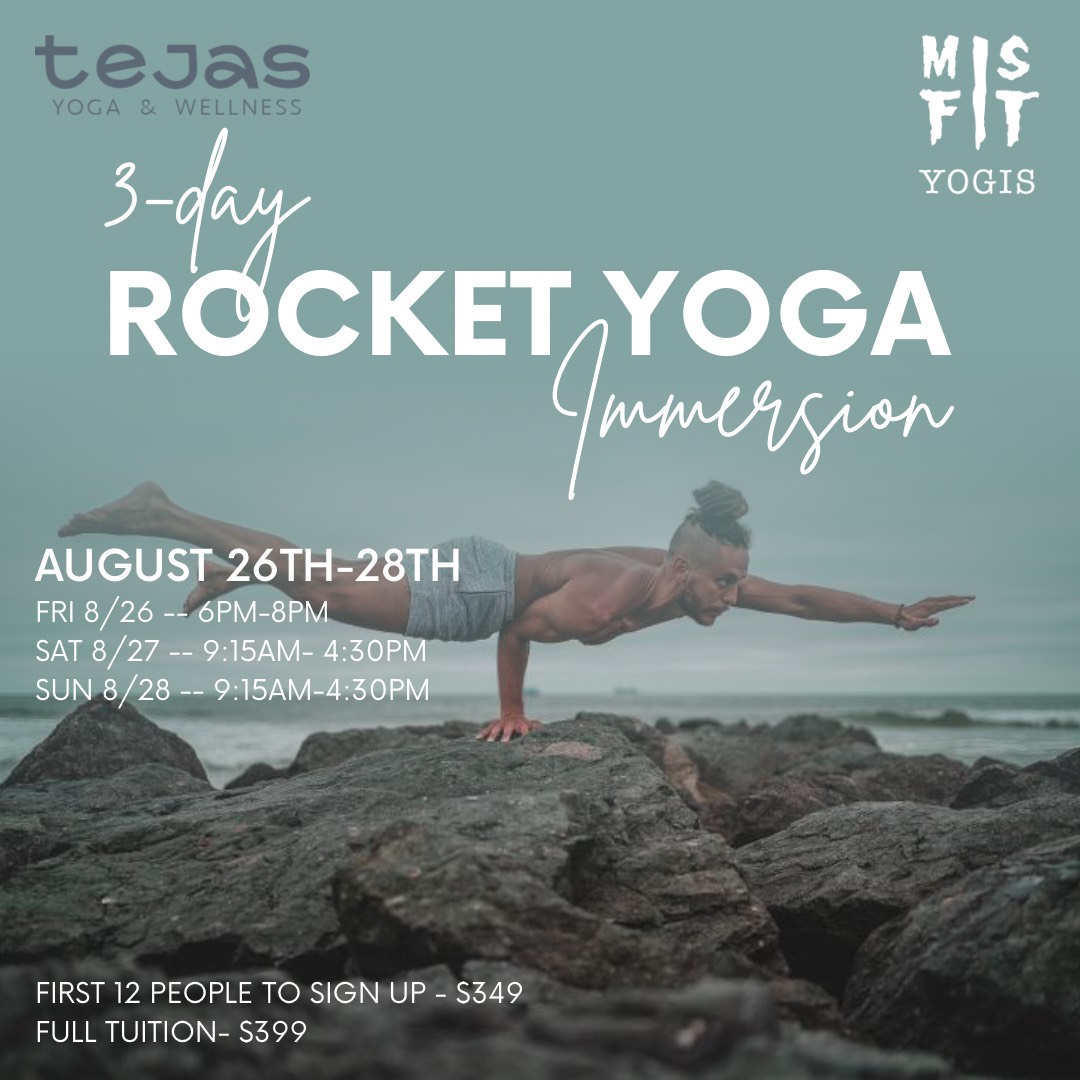 Come deepen your practice and understanding of vinyasa yoga with this weekend long Rocket Yoga intensive immersion(15hrs). We will go back to its roots starting with the lineage of traditional Ashtanga yoga and dissect the following: Sanskrit opening/closing chant, traditional Surya Namaskar A & B(Sun Salutations), standing poses, seated vinyasa, pain free back bends and hip openers (by offering modifications).
After establishing the basic foundations of the Ashtanga yoga method, we will blast off introducing the evolution and birth of Rocket Yoga. The Rocket Yoga system is a vinyasa practice that takes the postures/sequences from the first 3 series of Ashtanga; it allows freedom to explore traditional and non traditional postures by offering accessibility through modification/variations. Without restraints or restrictions, the progression of Rocket Yoga optimizes the practitioners ability to attain their fullest potential. During the Rocket portion of the immersion we will cover: strength and conditioning drills, inversion clinics, arm balances, floating progression, drop backs, and more.
All the skills and knowledge learned in this weekend long immersion can be applied to any vinyasa based practice.
Day 1 Friday 8/26
6-8pm Surya Namaskar A&B
(HW: Review Ashtanga opening/closing mantra)
Day 2 Saturday 8/27
9:15-10:45am 90min Full primary Ashtanga
BREAK 45mins
11:30-12pm Intro to Sanskrit chanting
12-1pm Seated vinyasa breakdown/breathe count
1-2:15 Posture Clinic (Standing Poses)
BREAK 1hr
3:15-4:30pm Mechanics of Lotus and hip openers
Day 3 Sunday 8/28
9:15-10:45am Rocket
BREAK 45mins
11:30-12pm INTRO to Rocket
12-12:30pm Strength and conditioning drills
12:30-2:15pm Arm balance and transition workshop
BREAK 45mins
3-3:45pm Handstand
3:45-4:30pm Backbends and Drop back
Early Bird Pricing(first 12 sign ups) $349
Full Tuition price $399
Friday only $60
If you can only make it Saturday or Sunday you can use the pricing Workshop $175, but can't attended both days unless you pay for the full workshop.
***Early bird pricing is the discount